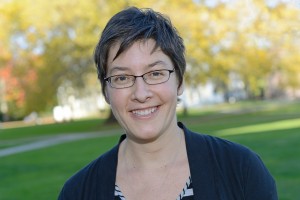 Margot Weiss is a cultural anthropologist whose research focuses on the sexual politics of late capitalism, primarily in the US. She holds an AB from the University of Chicago (1995), a Graduate Certificate in Women's Studies, and PhD in Cultural Anthropology from Duke University (2005). At Wesleyan, she teaches courses in the anthropology of sexuality and gender, queer studies, and social theory.
Professor Weiss's book, Techniques of Pleasure: BDSM and the Circuits of Sexuality (Duke University Press, 2011), was awarded the Ruth Benedict Prize by the Association for Queer Anthropology and was a finalist for the Lambda Literary Award in LGBT Studies. Techniques of Pleasure traces the circuits between BDSM communities, US neoliberalism, late capitalism, and gendered and racialized social norms. She is currently working on her second book, "Visions of Sexual Justice," which explores the parameters of a radical political imagination among North American queer left activists at a time of economic precarity.
Margot Weiss has published essays on the sexual politics of late capitalism, sexuality and American imperialism, neoliberalism and new queer activisms, and method in queer anthropology in journals such as GLQ, Journal of Homosexuality, Anthropologica, and Radical History Review. Her forum on left intellectuals and the politics of knowledge in the neoliberal university appeared in American Quarterly.
See more of Professor Weiss's scholarly writing, research, and interviews on her personal page: margotweiss.com