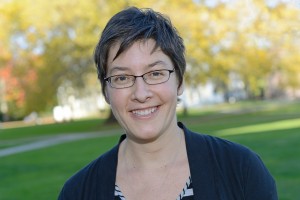 Margot Weiss is a cultural anthropologist who brings ethnographic methodology informed by feminist and queer theory to the study of sexuality. She holds an AB from the University of Chicago (1995), and a Graduate Certificate in Women's Studies and PhD in Cultural Anthropology from Duke University (2005). At Wesleyan, she teaches courses in the anthropology of sexuality and gender, queer studies, and social theory.
She is the author of Techniques of Pleasure: BDSM and the Circuits of Sexuality (2011, Duke University Press), which won the 2012 Ruth Benedict Book Prize and was a finalist for the 2012 Lambda Literary Award. Techniques of Pleasure charts the sexual politics of neoliberalism, complicating the often-polarized discussions of BDSM within queer, feminist, and anti-racist theories by linking sexual communities to the social dynamics of late capitalism. Her current research with North American queer left activists focuses on the possibilities and parameters of a radical political imagination at a time of economic crisis.
She has published articles on the politics of BDSM media visibility (in Journal of Homosexuality); on labor, leisure, and commodified sexuality (in Anthropologica); on the performative effects of BDSM interrogation scenes and the Abu Ghraib photographs (in Out in Public); on neoliberalism, homonormativity, and new queer activisms (in Radical History Review); and on method in queer anthropology (in GLQ). Her forum on "Academia and Activism: Left Intellectuals and the Neoliberal University" appeared in American Quarterly.
Watch Margot Weiss:
In Theory Lecture, "Introduction to Queer Theory" video
Summary comments at the Feminist Theory Workshop at Duke University. video
Center for the Humanities Lecture on Temporality, "Cultural Trauma, National Memory: BDSM Play with Slavery and Fascism" video